6th May 2007: C-Litter

Abal x Niles Red Rock.
8-10 Month:

Choukri and Astyanax developed into a real "dreamteam". As they are perfect teamworkers they drive their people crazy every now and then. But, a frienship like this is a rare treasure.




Choukri has grown to be a very elegant and handsome boy: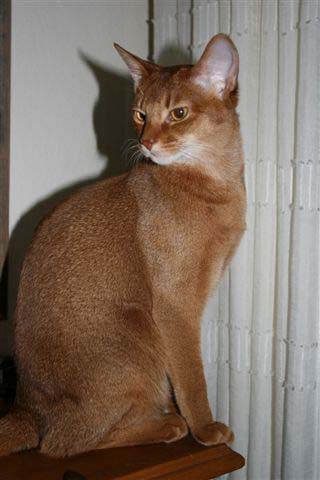 Indigo is still trying to come along with the other three cats in his house. As always, he is fooling arround all the time.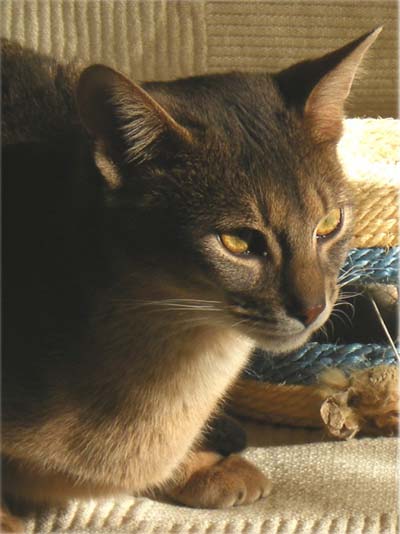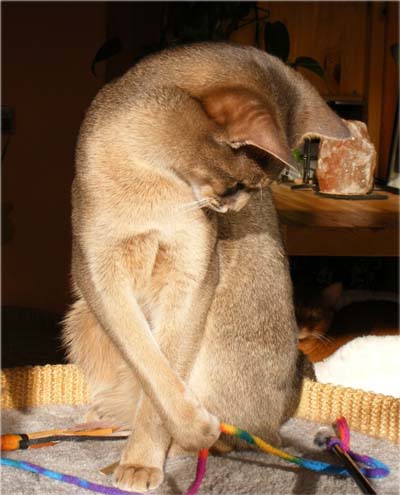 Nineteen Weeks:

This was a nasty, cold summer. So every single sunny moment had to be used:

Together with a handsome black tabby named Astyanax Choukri is now living in Unna.




Nele will stay with us.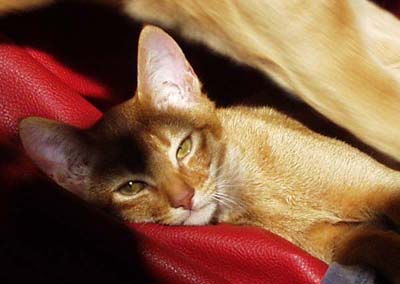 Indigo left home and traveled by train (very cool) to Hamburg. There he lives with three other neutered cats now: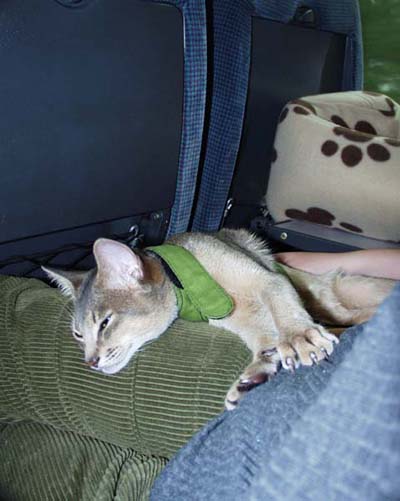 Fourteen Weeks:

Our C-team is a great pleasure to all of us. They love to play and run outside in the sun.

Choukri:




the first weeks and months he was a bit calm and maybe even shy. But meanwhile he is as brave and active as his sister and brother. I feel that he is the most beautifull kitten in the litter.

Indigo: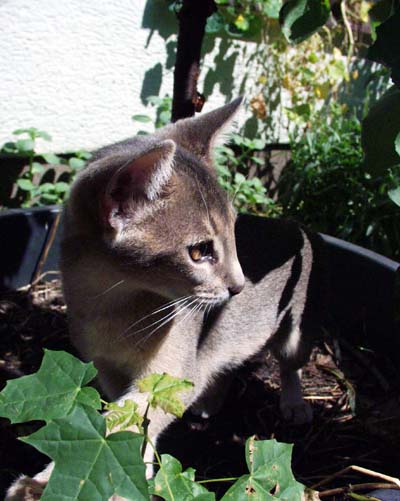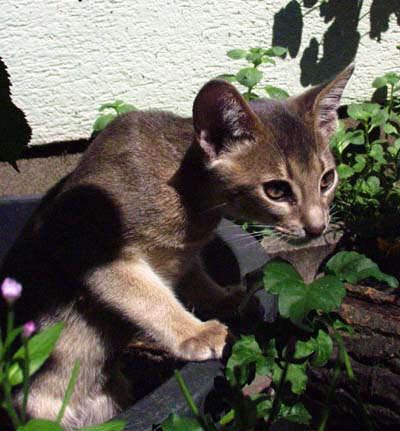 is very much what we expected from this mating. He has got a very nice colour and a very elegant and muscular body. One cannot guess that he has more than 2 kilos already.

Carnelian "Nele":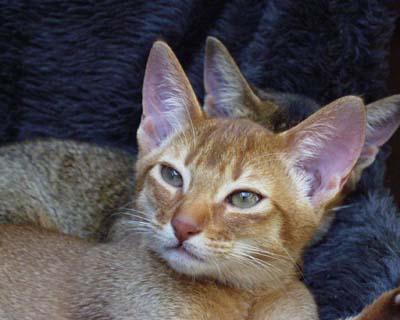 she is the smallest of the three, but her self-confidence is the greatest. I think one can see this.
Nine Weeks:

I must confess, that I did not take pictures for a too long time. But, we had very ugly weather here in Germany and my old digicam does not make any nice shot in bad light. Anyway we used the first nice days to make some kitten-updates:

Choukri: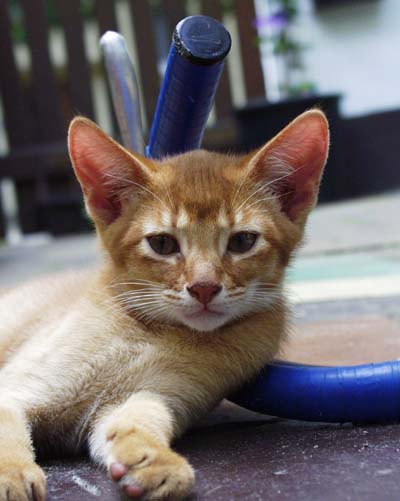 We never before had a kitten that liked so much to be cuddled. Since he was fresh born he loves to be touched by cuddling hands. He is a bit quieter than his brother and sisters are - but of course he loves to play with them whenever they want it.

Indigo:




oh, what an active boy he is. If there is fun or fight you will find him...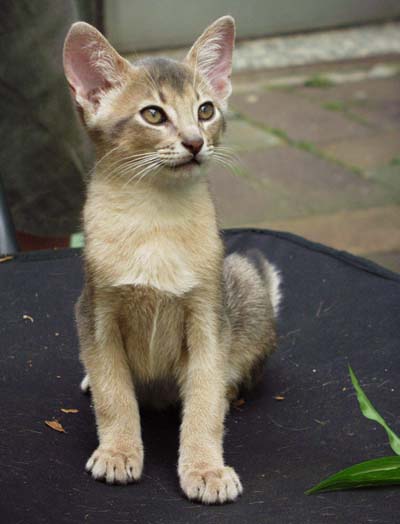 But, look into his eyes - you can never be angry with him.

Carnelian "Nele":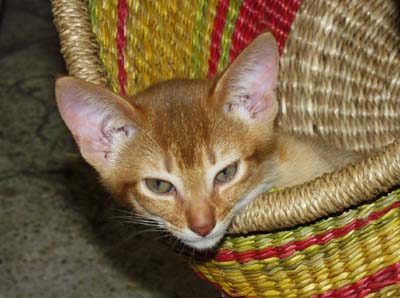 will stay with us. She is nicely developing and will be a handsome, elegant girl. She has got tiny tufts that we did not count on (but which we like).
Five Weeks:

All the kittens are growing and are so very healthy, we just enjoy it! The two boys and the single girl all three love to be petted and are very cute.
Although their aunt Bibi still is the "star", they are quite happy that this wild girl has a bigger friend now to play with.

Choukri:




Carnelian:




CouldItBe Indigo: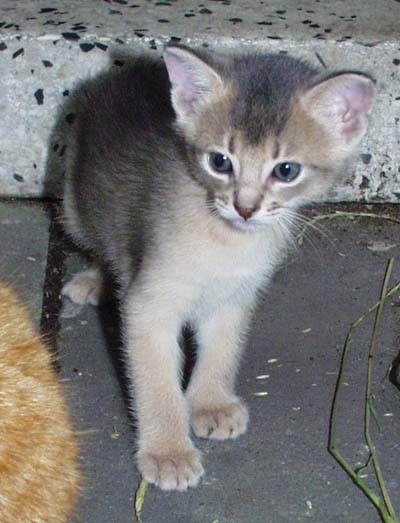 Two Weeks:

This time we were really quick and so all the kittens already have names.
"elmourABIta´s Choukri" - Mohamed Choukri was a famous Berber author.




"elmourABIta´s Carnelian" - Carnelian is a wonderful, red to brownish gemstone. The little girl reminds us of those gems.




"elmourABIta´s CouldItBe Indigo": refering to my suprise at his birth we decided to give this name to him. And remembering a great ancestor..


Day Six:

The two boys and the girl are somehow different to what we are used to, but they are developing fine.
The sorrel boy:




The sorrel girl:




The blue boy:


Day of Birth:

Fitting to her character, Abal performed her pregnancy in a very unspectacular manner, and so she gave birth to a normally sized litter after a normal lenght of being pregnant and the kittens were of normal weight.
But, not equally normal and surely not expected was the colour composition of this nest. All right, we knew that she might carry dillution, we knew she had sorrel in her lines...
But we would never have expected this: What can I say? Recessive´s victory!